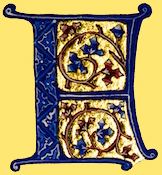 Forward Into the Past 22
| | |
| --- | --- |
| Date | March 31, 2012 |
| Place | Wilfrid Laurier University |
| Adult Pre-Reg Price | $15.00 whole day |
| Student/Senior Pre-Reg Price | $10.00 whole day |
| Child Pre-Reg Price | $5.00 whole day |
| Adult Day-Reg Price | $20.00 whole day |
| Student/Senior Day-Reg Price | $15.00 whole day |
| Child Day-Reg Price | $10.00 whole day |
| Site Cost | $ 0.00 |
| Speakers Cost | $ 273.59 |
| Advertising Cost | $ 26.67 |
| Other Costs | $ 165.65 |
| Profit | $910.96 |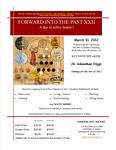 Interesting Stats
Class Statistics
Comments from Attendees
# - Session has attendance limits
$ - Session has a materials fee
| | | | |
| --- | --- | --- | --- |
| Class (Full List) | Speaker (Full List) | Time | Attendence |
| 14th Century French Feasts | Wendi Trauzzi | 3:30 | 18 |
| 2E3P (Two Estates - Three Papers) | Brent Krajewski, Alexander Wreford, Clare Pember | 3:30 | 10 |
| A Mere Matter of Marching: Causes and Impact of the War of 1812 | Nathan Laanstra | 10:30 | 13 |
| A Working Day on a Victorian Farm and Estate | Ken Cook, Margaret Trainor Cook | 10:30 | 13 |
| A second look at Art | Samantha James, Barry Torch, Candice Kernot | 1:30 | 4 |
| Archaeology and the Single Re-enactor | Ronald A. Ross, Ph.D. | 4:30 | 10 |
| Basic Calligraphy | Jackie Wyatt | 4:30 | 15 |
| Bawdy Songs & Love Ballads | Richard Schweitzer | 10:30 | 19 |
| Beads - Open Torch Time | Jean Ross | 12:30 | 12 |
| Bookbinding 101 | Erynn Bockler | 11:30 | 8 |
| Brocaded Tablet Weaving | Rob Schweitzer | 4:30 | 12 |
| Cancelled: Being Graby - Medieval Style | CANCELLED | 1:30 | 2 |
| Cancelled: Bone and Antler Carving | CANCELLED | 2:30 | 10 |
| Cancelled: Understanding Close Combat and Shock Tactics | CANCELLED | 11:30 | 5 |
| Chainmail - Beyond the Basics | Jerry Penner | 3:30 | 5 |
| Chainmail for Beginners | Jerry Penner | 11:30 | 4 |
| Costuming Research (1000 - 1800 A.D) | Amy Menary | 3:30 | 4 |
| Counted Cross Stitch - Learn to Make Your Own Heirlooms | Ellen Mervin | 12:30 | 6 |
| Cryptography | Peter Westergaard | 1:30 | 20 |
| Development of the King Arthur Legends | Heather Dale | 10:30 | 20 |
| Digging in the dirt - attending an archaeological fieldschool | Neil Peterson, Karen Peterson | 12:30 | 15 |
| Dundurn Castle and the 1855 Kitchen Garden | Victoria Bick | 2:30 | 14 |
| Early Medieval Weights and Measures | Mila Little | 12:30 | 8 |
| Eating the Past: The food of Apicius comes to life | Krystal Osborn, Cady Berardi | 1:30 | 19 |
| English 16th & 17th Century dances from the Inns of Courts | Marc Collins | 2:30 | 11 |
| European Dance - English Country Dances | David Learmonth | 4:30 | 5 |
| European Dance - Mimed Bransles of France | David Learmonth | 1:30 | 8 |
| Experimental Vikings: Glass and Iron | Neil Peterson, Darrell Markewitz | 11:30 | 12 |
| Fingerloop Braiding - Intermediate | Karina Bates | 3:30 | 2 |
| Fingerloop Braiding - beginner | Karina Bates | 12:30 | 16 |
| Get Stuffed!!! - Sausage-Making and You | Sam Falzone | 2:30 | 20 |
| Get in the Game Part I - The Game is Banned | Jeff Johnston | 2:30 | 8 |
| Get in the Game Part II - So... Let's Play | Jeff Johnston | 4:30 | 7 |
| History of Japan from 1100 to 1573 | Brendan Smith | 3:30 | 6 |
| History of Japan from 1573 to 1603 | Brendan Smith | 4:30 | 3 |
| I wrote some | Catherine Ollerhead DeSantis | 1:30 | 2 |
| Influential battles of the Middle Ages | Brendan Smith | 10:30 | 9 |
| Introduction to Drop Spinning | Karen Peterson | 3:30 | 10 |
| Introduction to Glass Bead Making | Jean Ross | 10:30 | 13 |
| Introduction to Italian Rapier | David Stamper | 3:30 | 6 |
| Introduction to Tablet Weaving | Rob Schweitzer | 1:30 | 25 |
| Introduction to the SCA | Brendan Smith | 2:30 | 2 |
| Large Menu Planning | Jean Ross, Martin Ross | 4:30 | 1 |
| Linen: flax seed to fibre | Wendy Maurice | 2:30 | 6 |
| Meaningful Scratches | Richard Schweitzer | 12:30 | 11 |
| Medieval archery | Erik Roth | 3:30 | 23 |
| Norse wire weaving | Susan Carroll-Clark, Ph.D. | 10:30 | 11 |
| Oh happy dagger! This is thy sheath | Marcus Burnham | 10:30 | 4 |
| Pewter Casting for Beginners | Richard Schweitzer | 1:30 | 24 |
| Polite Society | Catherine Ollerhead DeSantis | 11:30 | 13 |
| Presenting the Medieval Joust as a Modern Sport | Jordan Heron | 2:30 | 2 |
| Presenting the Past - developing Living History programming | Darrell Markewitz | 2:30 | 7 |
| SCA heavy fighting demonstration | Brendan Smith | 12:30 | 3 |
| Sex and the Church | Susan Carroll-Clark, Ph.D. | 4:30 | 26 |
| Silk-Painting a Medieval Banner | Heather Dale | 2:30 | 14 |
| Small Kit Box Construction Workshop | Nicholas West | 11:30 | 10 |
| Sprang: A Basic Introduction | Jo Duke | 10:30 | 14 |
| Stinging Nettles | Lynette Pike | 4:30 | 14 |
| Storytelling 101 | Andrea Shalay | 11:30 | 8 |
| The Hamilton & Scourge | Michael McAllister | 9:00 | 58 |
| The Hispanic Papers | Craig Mackay, Gregg French | 12:30 | 6 |
| The Logistics of Supplying English Archers during a battle | Russ Sheldon | 1:30 | 8 |
| The New World Papers | John Sampson, George Kennedy | 2:30 | 0 |
| The Russian Civil War | Jordan Burrows | 2:30 | 5 |
| The life and times of the unicorn | R. M. Kerr | 3:30 | 4 |
| The military development of Late-Medieval and Early-Modern Russia | Jordan Burrows | 4:30 | 7 |
| To Singe the King of Spain's Beard Part 1: Events Leading up to the Armada Fight of 1588 | David Stamper | 10:30 | 0 |
| To Singe the King of Spain's Beard Part 2: Naval Warfare and Technology during the Age of Elizabeth I | David Stamper | 12:30 | 3 |
| Torture 101 | Simon Newcombe | 11:30 | 19 |
| Trade Guilds and Furniture Construction Styles in Medieval England | Nicholas West | 10:30 | 4 |
| Turn Ons and Jack Offs: Pornography in Ancient Greece | Candice Kernot | 12:30 | 6 |
| Vocal Technique for Speakers/Singers | Heather Dale | 12:30 | 10 |
| What Middle Bronze Age grave goods say - Southern Levantine tombs | Nichole Sotzek | 11:30 | 10 |
| What Motivates Magic, and How Far Would a Magus Go? - A Case Study of the Latin Picatrix | David Porreca, Ph.D. | 10:30 | 1 |
| Whips and whip making, a misunderstood tool | Tim Foster | 1:30 | 5 |
| Working Up the Past - A History of Knitting | Samantha James | 10:30 | 0 |
Summary of 65 Feedback Forms
Spelling and grammar are that of the participants, editorial notes are in [these brackets]
How was the variety of workshops and lectures?
Average: 4.6
5/5: 40
4/5: 23
3/5: 2
2/5: 0
1/5: 0
How was the quality of the workshops and lectures?
Average: 4.3
5/5: 23
4.5/5: 2
4/5: 35
3/5: 4
2/5: 0
1/5: 0
Did you enjoy the location?
Average: 4.6
5/5: 41
4/5: 19
3/5: 2
2/5: 0
1/5: 0
Was parking simple and easy?
Average: 4.7
5/5: 41
4/5: 16
3/5: 0
2/5: 0
1/5: 0
How helpful were volunteers?
Average: 4.5
5/5: 43
4/5: 13
3/5: 5
2/5: 0
1/5: 0
0/5: 1
What were the lectures and workshops that stood out for you?
hands-on: wire weaving, fingerloop braiding
fingerlooping, King Arthur legends, silk painting
King Arthur, Dundurn Garden, Archaeology & the Single Re-enactor
I found the lecture on Dundurn Castle very fun and informative
Banner painting was great!
Pewter Casting, Beads Intro - 5 of 5
Dundurn Gardens and Nettles
All of them stood out!
Wire weaving - Nicolaa made it incredibly easy and the kit was great
Apicius, all the dancing, bronze age tombs
all
Russian Civil War, Military Development of Late Medieval and early modern Russia
Sausage Making
Exp. Viking
Sex and the Church - very interesting
Heather Dale - need I say more
Jousting! Amazing
Archaeology & the single re-enactor
Keynote, Archaeology and the single re-enactor
Nettles - different, interesting to me as another fibre option makes me want to learn more
I was a vendor so unfortunately did not get to attend
hands-on
I only attended 3 (manned OHS table part-time) - sprang, fingerloop braiding, and Get Stuffed - Sausage making is the one that stood out because it's something I've wanted to do for awhile, but haven't seen in offered. It was made _so_ simple: put in the herbs, spices that appeal to you, cook up a bit, taste it, make changes if desired. Hands-on, but not tied to a recipe. Lovely! Braiding and Sprang were also terrific, in line with my usual fibre hobbies, and just add to my growing knowledge. All three instructors for these workshops were helpful and not dogmatic. I had a wonderful day.
I liked all the lectures, each one had a style all its own. The Q&A sessions for all the lectures were really informative - the session leaders knew their subjects and were happy to talk. The dance class (16th and 17th century English dances) was a hoot! The Legends of King Arthur was very entertaining. It would have been fun to try and decipher a coded message in Cryptography (a simple code!). Thanks for giving the second years a chance to give a presentation.
Russian Civil War
2 Estates, 3 Papers
Polite Society
Simon's class on torture rocked!
Practical hands on
Liked the Pewter Casting and the lecture on stinging nettle
Arthurian Legend, tablet and finger weaving
Hands-on was my focus of appeal
Weights and Measures, Knife Sheath
King Arthur Legends
Glass and Iron
Games 1 and 2
Any hands-on stuff
Calligraphy and french feasts
Japan and chainmail
Bead Making
Silk painting a medieval banner
Hamilton and Scourge, to singe the king of Spain's beard and Intro to Rapier, oh and Bawdy Songs and Love Ballads
Eating the Past - really interesting and scholary as well as experimental
Sausage-Making - loved being able to take home fresh sausage!
Rapiers. Ow my arm.
The make and take like the calligraphy and stitching
Loved Linen, Apicius, Archaeology and the single re-enactor (my husband), enjoyed Hamilton and Scourge, too
loved beginner bead making
Russia and Banner Making
Magic Lecture
Norse wire weaving
tablet weaving
Pewter casting
small kit box
Hamilton and Scourge
Hamilton and Scourge
Sex and the Church - superb!
Calligraphy
Keynote Speaker
1865 Victorian farm
Polite Society
Dundurn Castle kitchen gardening
Guest speaker from Hamilton military museum
Russia from Ivan W to Peter the Great
Sausage making
Nettles
Bawdy Songs
Sausage making was great
Legends of King Arthur and the dance workshops
They were all good
Silk Banner Painting
Archaeology and the single re-enactor
What lectures were unsatisfactory? Why?
Because all of the speakers were volunteers, some professionalism was missing, but it was still a ton of fun
14th c feast was very short, despite the amount of time she may have spent on powerpoint and printouts for her menu game, kind of lightweight
Caligraphy - I could sit at home, look in a book and copy letters myself. There was no actual teaching for a beginning which I was the only one in the class
None
Stinging Nettle ok but not great - 3.5 of 5
No lectures/workshops. Generally, the number of hours in the day; too few. Also my body's obnoxious need to be fed.
None were unsatisfactory, although some suffered from lack of preparation
None
French feasts soft spoken, very short
Ran out of time for sprang but it was informative, I'm just slow
n/a
More classes, clearer class descriptions
Some instructors did not show up, that spoiled what I came for
Medieval Archery - slow, rambling & not much new or interesting (and maybe not correct) information
I would encourage profs to coach students on presentation skills
n/a
None!
Influential Battles - not as well prepared as the others
None
French feasts could have had a bit more detail
N/A
Logistics Supplying English Archer - good material, poor speaker
None
Box-building. It was mostly my fault. I failed at building
Runes because the instructor couldn't make it
None
Storytelling 101, not what it was advertised as
14th cent. feasts - very little about food, only 20 min. - read from powerpoint
None
None
Sprang was fun, but not enough time
Tablet weaving could have been more organized. Look! a Squirrel
N/a
Medieval Archery - no lesson plan, know topic but really rambling
14th century french feasts - under prepared
'Bawdy Songs' presenter also unorganized, but he did at least fill the 50 minutes
None
Bookbinding - instructor could do with more information on medieval books and the materials used in bookbinding
Archery - good info not a great presenter
None
I only went to 'Meaning Scratches' - the guy did his best for only just having taken over the class, technical difficulties and losing his notes. Only thing is I wish we could have started actually carving a little sooner
Medieval Archery - the speaker was, while very knowledgable, was very monotone
Other Comments
Would like to see a floor plan layout of all 3 flooors at sign-in station to help figure out where classes are because of tight time between classes. Thanks for coffee, but excruciatingly weak!
Would love it to be over 2 days in order to take more classes. More variety in vendors - lower prices as well as high end prices.
The lunch table would be more visible in a hall rather then then a classroom.
Thank you for a most interesting day!
I will be coming next year as well.
Glad to see this day growing so well!
Had a great time, learned a lot. May take up tablet weaving.
My first time here, hoping to come again next year.
Great as usual!
I noticed a dog in during lectures which was very distracting.
What a gem of a conference!
A historical linguistic discussion would be interesting.
A longer lunch period. For those in class 11:30 - 12:30, there isn't a lot of time to get food
Need more fencing!
Thank you for a wonderful day.
Great location, good student involvement.
Parking was simple and easy (5) once I found the way in! Don't pay attention to your GPS!
It was a every enjoyable day with a nice variety. The vending seems to be good for people in between lectures and workshops.
Thank you for your hard work.
Really enjoyed the day and variety.
I <3 FTIP
Material costs seem quite low - hope that the instructors are not losing on the deal.
Having the speaker talking too fast was my irritant. I rarely give a 5 as there is always the chance for improvement.
Great day!
Someone had a (what I believe) was not a service dog. I wish I could have gone to the Apicius talk (I had a conflicting class).
Thank you!
Next year, someone else mans this booth!
This was fun! I hope it happens again next year
Fantastic event!
Will return next year.
Great variety of classes
Jordan Burrows is the best lecturer ever. Russia is fascinating.
Too much going on in one day - I get exhausted.
Tons of fun see you next year.
Well done there!
Loved the hands-on. Should have it twice a year! I'll be back.
This is my first time to attend - It was great. Thank you.
A really fun day overall. Thanks!
Job well done!
I would like handouts if possible. I take notes to refer to later but can't always get it all down. Even lists with websites, contact info, and Resource list would be helpful.
Had fun!
Also enjoyed the vendors.
Another excellent conference! Thanks!