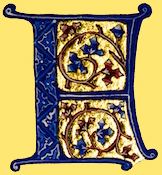 Keynote Lecture - April 5, 2008
Hanna Martinsen of the University of Toronto presented Scandinavia's Oseberg Queen, Saint Birgitta and Queen Margareta: Three Medieval Women and the Textiles of their Time.
Scandinavia has a diverse and unique collection of medieval textiles. Pieces of different textiles as well as textile equipment were found in the Viking burial from Oseberg in Norway, as well as in the more than 1100 Viking graves at Birka in Sweden. The Scandinavian textile tradition includes different weave techniques: double weave, tapestry technique and weft wrapping also known as soumak, as well as many embroidery techniques; and examples of these are still in existence in Scandinavian collections. St. Birgitta's convent in Vadstena, Sweden, which was established in 1346, included a workshop for producing very exclusive church textiles of which a small proportion have survived up to today. The only garment that will be discussed belonged probably to Queen Margareta. Not only does this garment exist and is at the present known as Queen Margareta's Golden Garment; but a copy was made in the 1990's to give today's viewer the sensation of how impressive this luxurious garment originally was.
Hanna Martinsen is a doctoral candidate at the University of Toronto with a focus on French Textile Printing. Her first Masters degree was from the University of Stockholm, her second Masters was from the University of Toronto, where her thesis topic was on dyeing with madder. Her earlier education in Gothenburg and Oslo included training as a textile engineer, and as a teacher of hand weaving. She has worked as an exhibit curator for several exhibits at the Canadian Museum of Textiles.