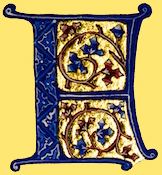 Keynote Lecture - April 5, 2014
Dr. Darrin Cox of West Liberty University presented Vikings: Medieval Metrosexuals?
Viking masculinity has largely escaped the Nordic reinvention of the past few decades that turned pirates and mercenaries to farmers and explorers. This lecture seeks to explore a variation of the traditional warrior masculinity of the medieval world by employing a modern stereotype which will hopefully broaden our understanding of the ways some Viking men may have chosen to portray themselves, suggesting that perhaps the metrosexual be added to the short list of things that come to mind when thinking about Vikings.
Dr. Darrin Cox
is an Associate Professor of History at
West Liberty University
. Besides publishing
Aristocratic Masculinity in France (1450-1550): From Knight to Courtier
, Dr. Cox conducts research in Viking Age expansion and gender, drawing in part from his near 20 years of Viking re-enacting experience. His latest endeavor is the Viking Living History Project, which utilizes college student volunteers to study the reception and effectiveness of living history in the K-12 school system. Having successfully acquired grant money from multiple sources, Dr. Cox uses this funding to finance the cost of materials and tools for volunteers, who get to keep the things they manufacture for future educational use, thereby training and equipping the next generation of Viking re-enactors in the process. Dr Cox earned his PhD in Late Medieval/Early Modern History (with a particular focus in gender and nobility) from Purdue University and his MA and BS degrees from West Virginia University, specializing in Viking History and Journalism respectively.